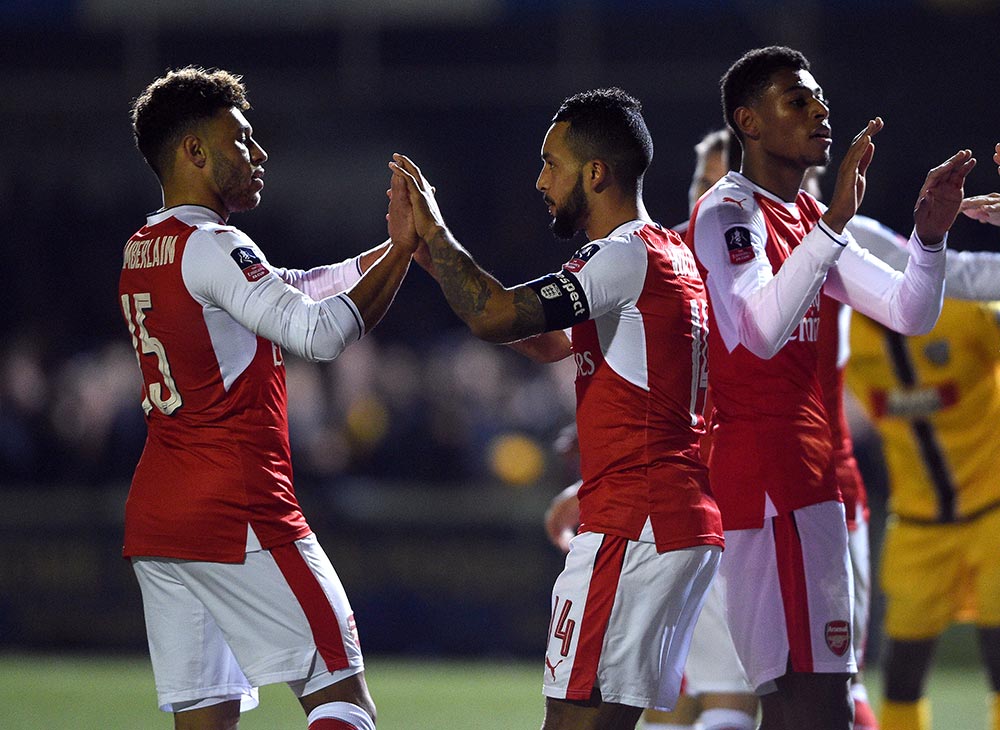 GOALS: Lucas Perez (25), Walcott (55)
MAN OF THE MATCH: Theo Walcott. He looked dangerous several times, but he was slightly better than Perez.
THE WEAK LINK: David Ospina. He made a couple of clangers during the match.
THE REFEREE: Mike Oliver 7. Didn't fall for any diving and almost all decisions correctly.
THE MANAGER: 7. The squad was largely effective and the substitutions were appropriate, although there was a gamble to the entrance of Alexis Sanchez.
OVERALL TEAM RATING: 6. The team went through the motions and avoided the upset that the media were probably hoping to see. Most of the players were effective and apart from Deacon's shot against the crossbar, they were rarely troubled.
VERDICT: The FA Cup run continues to the quarter-finals, where Arsenal now play non-league Lincoln. The FA Cup looks to be the best chance Arsenal have of winning a trophy this season.
PLAYER RATINGS:
Ospina 5: Rarely tested, he created drama in the first half with a poor clearance that gifted a scoring opportunity to Sutton. In the second half he looked vulnerable to high crosses and was completely stranded when Deacon hit the crossbar.
Gabriel 6: Relatively tidy performance by Gabriel defensively. Offensively, he didn't combine well with Walcott and had trouble delivering crosses.
Mustafi 6: A better performance from Mustafi from the Bayern match. Made several decent challenges that blunted shots from Sutton forwards.
Holding 6: He looked solid most of the time.
Monreal 6: He looked a little suspect a couple of times, but he also made several good attacking moves, including an assist on the second goal from a good cross.
Elneny 5: A quiet match which featured a wild shot in the first half. He picked up an injury in the first half and had to be substituted at halftime.
Xhaka 7: He had a better game, launching a number of good attacks and helping to break up a number of attacks. He did pick up a silly yellow card, grabbing hold of a Sutton player.
Iwobi 5: He had a quiet match other than a shot that went just wide in the first half. Iwobi was unable to make an impression on the match.
Reine Adelaide 6: He showed touches of good skill, but wasn't able to establish himself on the game.
Walcott 7: He scored the decisive second goal, his 100th goal for the Gunners. He had a role in the opening goal as well, confusing the keeper who anticipated Theo getting to the cross, which he didn't. He wasted several good attacks, losing the ball or hitting a good chance over the bar.
Lucas 7: His opening goal was a cross more than a shot, but the keeper froze and the ball rolled home. He looked dangerous several other times, but was unable to make a decisive move.
Substitutes:
Oxlade-Chamberlain 7: He had a good run out in the second half and looked more dangerous than Elneny. Made one great run down the left, but at the end his cross just missed Walcott.
Sanchez 6: He came on and had a couple of decent chances, but couldn't convert anything. He did keep Sutton's defenders on their toes and kept them from coming forward.
Maitland-Niles 6: He had a good twenty minutes, helping to keep the ball moving and breaking up Sutton's attacks.