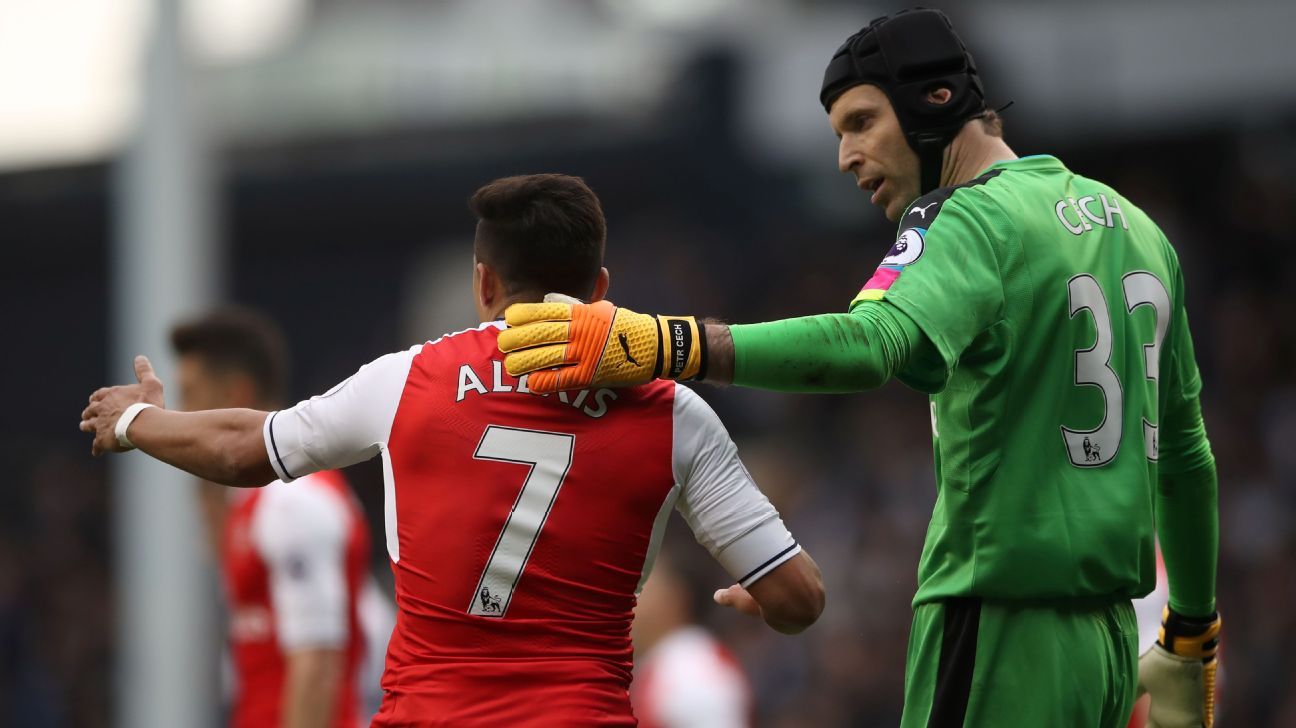 GOALS: Tottenham: Ali (55), Kane (58 pen).
MAN OF THE MATCH: Petr Cech. Without his four or five excellent saves, the match would've become a bloodbath.
THE WEAK LINK: Up front Giroud couldn't do anything with the ball and in midfield Xhaka and Ramsey couldn't gain or maintain possession. The Ox was a big disappointment as well.
THE REFEREE: Michael Oliver 5. He was generally having a decent match until the penalty, where I felt that Kane dived after minimal contact. Penalties should be awarded when the contact causes the player in possession to fall, not when a player flops to the ground after any slight contact.
THE MANAGER: 4. Welbeck should've started as Giroud looked lost out there. I winced when I saw the starting lineup. Depressing to think that a number of the Spurs players could've been Gunners. Vertonghen was looked at and we chose Vermaelen instead, Alderweireld was ignored and we ended up with Gabriel, Wanyama wanted to come to Arsenal and we showed no interest, Kane used to be in our youth system, and Eriksen at one time was available as well.
OVERALL TEAM RATING: 4. The team rode their luck in the first half, managing to stay on even terms despite giving up two great chances to Spurs. They were starting to look better early in the second half when the game collapsed in the 55th minute. Then they were battered for the next fifteen minutes. They weren't able to keep control of the ball or to generate solid chances on goal.
VERDICT: A toothless display against our hated rivals. The team has no spine in the middle and we really missed Cazorla out there as well as a strong defensive midfielder. Up front we produced very little on a day we had a chance to make serious inroads into finishing in the top four, when both Manchester United and City dropped points.
PLAYER RATINGS:
Cech 8: Wasn't to blame for the goals, but made some wonderful saves off Vertonghen (twice), Kane (on a breakaway), Alderweireld, Wanyama, and Eriksen (just prior to the goal).
Gabriel 5: Gave away the penalty, but it was a harsh one. The defence looked more disorganized this day and Gabriel was often being dragged out of position to cover players that the Ox or Ozil should've picked up.
Koscielny 6: Generally played well, but might have done better in the buildup of Spurs' first goal.
Monreal 6: Similar match to Gabriel, but he generally managed to muddle through.
Oxlade-Chamberlain 4: He made a couple of key interventions, particularly on Ali on the first half, preventing a goal. At other times he was out of position or gave the ball away. There was no offensive contribution other than one or two poor crosses.
Xhaka 5: Lucky to avoid being carded. Most of the day he had trouble moving the ball and provided little protection for the back three.
Ramsey 5: He had our best chance to score in the first half, but Lloris made the save. Too often Aaron gave the ball away in our half and was unable to carry the ball upfield. Better suited to playing in an advanced role.
Gibbs 7: Kieran actually had a decent match. In the early stages he got upfield a number of times and even had a close call collision with Lloris. He was generally tidy in possession.
Sanchez 7: He gave the ball away a number of times and was guilty of trying to force his way through several times. He had a shot at goal in the first half that narrowly missed and another chance in the second half that he paused and then took with his weaker left foot.
Ozil 6: Did not get on the ball often enough. Was instrumental behind a number of Arsenal moves when they had them. He was forced back on defence much of the time.
Giroud 5: Showed very little in the first half and had a couple of chances in the second. One was saved by Lloris, the other he volleyed left of the goal. He had little support and he looked lost out there.
Substitutes:
Welbeck 5: Added some energy and had one half chance, but little else.
Walcott n/a: No real impact on the match. Did have one shot, but he didn't hit it with his left foot (which he should've) and the shot was hit without conviction at Lloris.
Bellerin n/a: He had two good chances to deliver crosses, but both were poorly delivered. Unlike the Biblical Samson, longer hair seems to have weakened him.