...a large central midfielder to shield our porous and vulnerable defence.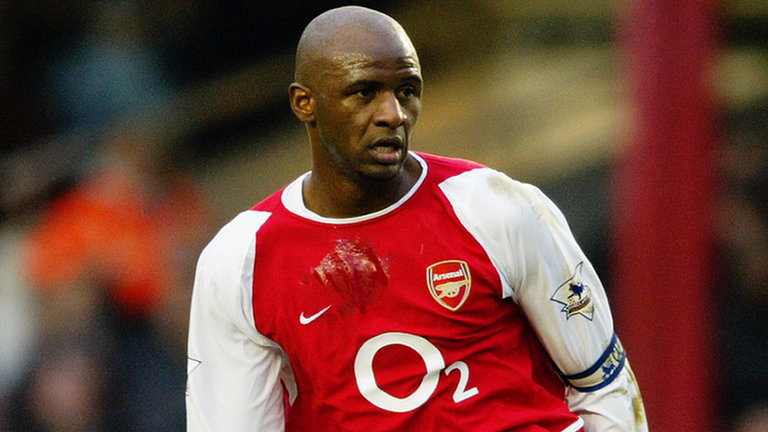 Gone are the days when Patrick Vieira and Emmanuel Petit physically dominated the midfield. Wenger also drafted in Gilberto Silva and he continued to shield the defence, but he lacked the offensive abilities of Vieira and Petit.
As Gilberto's time at the Emirates wound down, Wenger brought in both Lassana Diarra and Matthieu Flamini as eventual replacements. Unfortunately, Diarra wanted to play right away and was not content to wait. He left and Flamini won the role, playing alongside Cesc, Hleb, and Rosicky. Unfortunately, he allowed his contract to run down.
Flamini wanted more money and he left us in the lurch to play for Milan. Suddenly we had nobody. Wenger would turn to Denilson, the young Brazilian, who lacked the physicality and was probably better suited to playing a more advanced role.
Denilson's defensive instincts were highlighted by the time against Man United when he failed to backtrack and was overtaken by Wayne Rooney, who was hungrier for the ball, and who punished us by scoring.
Wenger would turn next to the young Alex Song. Song was physical and strong in the tackle and started to make the position his own. Unfortunately, Song discovered he could attack as well and he very often strayed from home, leaving the defence with no protection. The other midfielders failed to rotate into his position when he ventured forward.
Arsenal also developed holding midfielders from their youth teams, but they failed to develop into elite type players. Emmanuel Frimpong probably ranks as one of the most outspoken players to ever play for the Gunners. Unfortunately, he was also injury prone and never was healthy enough to show us what he initially promised.
Francis Coquelin also made the jump from the youth team to the first team. Coquelin's defensive game is quite good, but he fails to impose his personality on the ball or to make himself available enough as an outlet.
He has also proved a temptation to play as a fullback or wherever there is an injury, as he is skilled and can play in other positions. He failed to find a regular role on both occasions he went out on loan.
Arsenal surprisingly sold Song to Barcelona and the position was given to Mikel Arteta, who had traditionally played in a more advanced role. Arteta has been fulfilling this role ever since, despite complaints that he needs more pace and that he lacks the size.
Wenger did bring back Flamini, now over thirty, as an experienced backup. Flamini is quicker than Arteta, but he isn't as good on the ball and he is prone to getting carded. Both of our holding midfielders are over thirty, prone to getting injuries, and are not as good as they need to be if Arsenal are to win the Premier League or the Champions League.
Abou Diaby has never had the health to hold down a regular midfield role, let alone the holding role which requires more contact. Many had envisioned him one day dominating the middle the way Vieira used to. Sadly, injuries have denied him the chance to prove himself.
Wenger has had his eye on buying a new holding midfielder for the last three seasons, but he has either not wanted to pull the trigger or has bid too low.
Three summers ago all the talk was about Yann M'Vila. Wenger made a late offer to Rennes to buy M'Vila, but it was deemed not enough. The following January we were rumoured to be interested in M'Vila or perhaps Etienne Capoue, but nothing happened.
The next summer Wenger's interest turned to Lars Bender at Bayer Leverkusen. Apparently, we made two large bids to buy Bender, but both were turned down. We were also interested in Paul Pogba. Juventus claimed that it had received a low bid from a Premier League side for Pogba (the hallmark of a Wenger bid), but it had turned it down.
Other targets included Geoffrey Kondogbia and Victor Wanyama, neither of whom we formally bid for. Another low bid was offered to Newcastle for Yohan Cabaye, but they were furious because of how unsettled he became.
The following January we needed some cover in midfield and Wenger made a late bid to buy Blaise Matuidi from PSG or Morgan Schneiderlin from Southampton. Neither club was interested. Instead, Arsenal obtained an injured Kim Kallstroem on loan. Kallstroem played in just a couple of games before the season ended (long enough to earn himself a well-tailored suit).
This last summer saw Arsenal make a couple of offers to get William Carvalho from Sporting Lisbon. The bids were deemed not high enough or we needed to provide more cash up front. Carvalho would be ideal, but his price tag is steep.
Arsenal also showed interest in Adrien Rabiot at PSG and in Real Madrid's Sami Khedira. Khedira has a wage bill that Arsenal cannot afford and he's somewhat injury prone. Rabiot is young and is not the finished article.
Now we head to another January transfer window and we have to wonder whether Arsenal will do it or will they opt to save money and wait until the summer. Arteta is now injured for the fourth time this season and Flamini is not that young or healthy either.
A common criticism facing Arsenal is their lack of size. Gone are the days when Vieira, Petit, and Gilberto physically imposed themselves on other teams. With the exception of Song, most of our midfielders since then have been small and not intimidating.
It would be a welcome change to see a midfielder with some size and muscle, someone who instills some fear into opposing players. It would be also be welcome to see Arsenal complete their transfer business (even if it is just for a defender) in early January, rather than the last two days of the transfer window.
If Chelsea could go out and buy Matic early last January then I don't see why we can't complete our business earlier in the window. Now we'll have to wait and see if anything happens. Like many fans, I'm not optimistic.